UN General Assembly convenes emergency meeting on Gaza — Global Issues
10:58 AM
At war with Hamas: Israel
Gilad Erdan, Ambassador and Permanent Representative of Israel to UN, said that the 7 October massacre and what ensued "has nothing" to do with the Palestinians, the Arab-Israeli conflict or the Palestinian question.
"This is not a war with the Palestinians, Israel is at war with the genocidal jihadist Hamas terror organization. It is the law abiding democracy of Israel against modern day Nazis" he said.
He went on to note that Hamas does not care about Palestinian people, peace or dialogue. Its only goal is to "annihilate Israel and murder every single Jew on the face of the Earth."
Mr. Erdan spoke of the brutal killings of innocent Israeli civilians and intentional targeting of Israel medical teams that were trying to help the injured during the terror attack. He questioned the "hypocrisy" that there is not a single condemnation of the barbarity against Israelis.
"The hypocrisy is beyond belief," he stressed.
10:44 AM
Riyad Mansour recalled Israel's recent comments in the UN Security Council about how its people are suffering, he said Palestinians are suffering too. Israel's representative had called to "release the hostages, then takes two million Palestinians hostage".
There are 1,000 Palestinians killed every day, he said, adding that nothing can justify war crimes and crimes against humanity.
"Why not feel a sense of urgency to ending the killing," he said. "You are setting us back 80 years by trying to justify what Israel is doing now."
Decades of occupation
Palestinians have survived decades of occupation, 16 years of a blockade and five wars in Gaza, he said.
The answer to the killing of Israelis and Palestinians is not more killing, he said, asking the UN membership to uphold UN principles and keep future generations from the scourge of war.
"The only path forward is justice for the Palestinian people," he said.
"Vote to stop the killing, vote to stop this madness," he said. "Choose justice, not vengeance. Choose peace, not more wars. Vote to put an end to almost three weeks of the worst double standards we have seen in decades. Do not miss this chance. Lives are hanging in the balance. Please, save lives, save lives, save lives."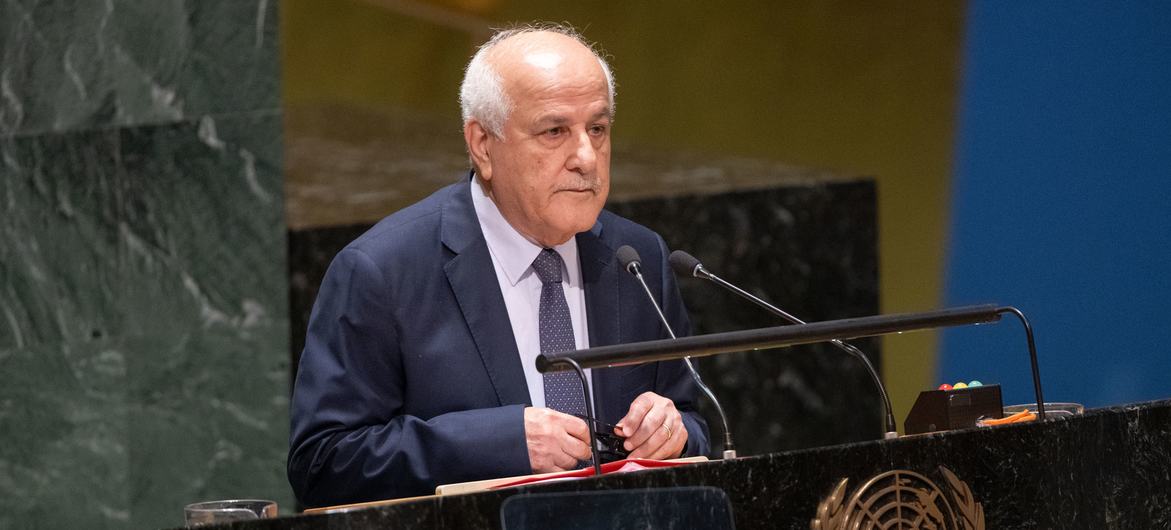 10:32 AM
Meeting amidst death in Gaza: Palestine
"We are meeting here while Palestinians in Gaza are under the bombs," Riyad Mansour, Permanent Observer of the State of Palestine, said, speaking first.
"You are speaking while families are being killed, while hospitals are coming to a halt, while neighbourhoods are being destroyed, while people are fleeing from one place to another with no safe place to go."
"There is no time to mourn," he said tearfully, pointing to the rising death toll. "If you do not stop it for all those who have been killed, stop it for all those who can be saved."
Citing personal accounts of life on the ground, he said humanitarian aid is badly needed. Hospitals are operating without anaesthetics, with doctors and patients alike wondering if help is on the way.
"This time, it's just too much," he said.
10:17 AM
Mr. Francis said he was "deeply disturbed and distraught" at the events unfolding in Israel and Palestine.
"Yet again, we gather amidst the gravest escalation of violence and hostility in the Middle East in decades."
The violence "must end now" he declared. He called for an immediate and unconditional humanitarian ceasefire and the opening of aid corridors.
He voiced his condemnation of the attack on Israel by Hamas on 7 October, stating "the brutality of the Hamas assault is shocking and unacceptable, and has no place in our world."
He also condemned the indiscriminate targeting of innocent civilians in Gaza and the destruction of critical infrastructure by Israel, "the ceaseless bombardment of the Gaza Strip by Israel and its consequences are deeply alarming."
'Protect and save lives'
Assembly President Francis underscored that the preeminent priority of the collective UN membership "must be to protect and to save civilian lives."
"All parties to this conflict must abide by International Humanitarian Law, and immediately create the necessary conditions to allow for an opening of humanitarian corridor to the Gaza Strip," he said, emphasizing that urgently needed lifesaving assistance reach those in need.
He also praised the work of UN personnel in Gaza, and offered condolences to the families of the 35 UNRWA staff members who were killed since the start of the crisis.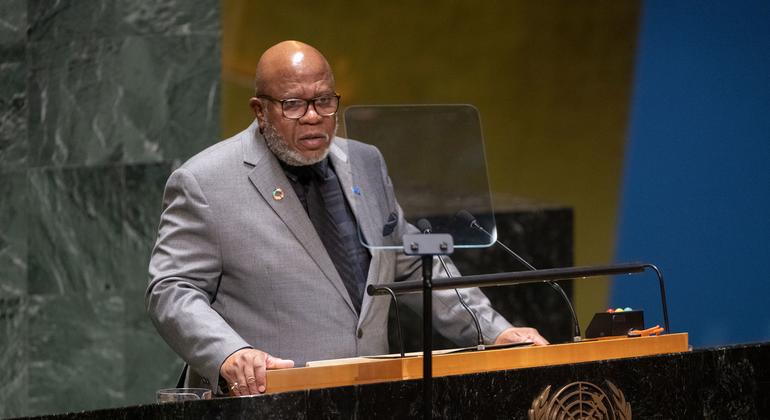 10:10 AM
The President of the General Assembly Dennis Francis gavelled the session open shortly after 10 but he will make the first address in the ornate General Assembly Hall.
He reminded delegates that the emergency session is reconvening following a request by Member States, and letters signed by Jordan, Mauritania, Nicaragua and Russia, together with Syria.
Members who have not paid their dues aren't allowed to vote in General Assembly meetings like this, but Mr. Francis agreed by general consent to allow those in arrears a waiver, so they can take part.
09:00 AM (New York)
The tenth Emergency Special Session of the Assembly is expected to start at 10 AM, New York time, and as of now, 110 speakers are inscribed on the list.
The State of Palestine is expected to address Member States first, with Israel expected to go second.
Emergency Special Session
Under the "Uniting for Peace" landmark resolution, adopted by the General Assembly in 1950, the body can convene an "emergency special session" within 24 hours, should the Security Council "fail to exercise its primary responsibility" for the maintenance of international peace and security.
This tenth Emergency Special Session was convened for the first time in April 1997, following a request from Qatar. It followed a series of Security Council and General Assembly meetings regarding the Israeli decision to build a large housing project in an area of East Jerusalem.
The Session last came together on 13 June 2018 to consider a draft resolution entitled "Protection of the Palestinian civilian population".
At the end of that session, the Assembly decided to adjourn "temporarily and to authorize the President of the General Assembly at its most recent session to resume its meeting upon request from Member States."
Ongoing crisis
According to several UN agencies on the ground, critical lifesaving supplies, fuels to keep hospitals running and drinking water is running out.
Meanwhile on Wednesday, the Security Council failed to adopt two resolutions on addressing the humanitarian crisis. China and Russia vetoed a United States-led draft resolution and a second Russian-backed resolution failed to secure sufficient votes in favour.
This followed failures for unity at the Council, last week. A Russian-led draft resolution calling for an "immediate humanitarian ceasefire" was voted down last Monday and the following Wednesday, the US vetoed a Brazilian-led text that urged "humanitarian pauses" to deliver aid to millions in the Gaza Strip.
More to follow…
Check out our Latest News and Follow us at Facebook

Original Source