MOLDED BY THE DARK: Memphis Grizzlies Cover SLAM 238
It's an early Saturday morning in April, and the Memphis Grizzlies have a rare day off. The players have come to the arena to participate in a celebratory event for season ticket holders, which includes a game of Simon Says that quickly escalates and becomes competitive—when head coach Taylor Jenkins gets eliminated, he briefly looks as though he might get T'd up. 
In many ways, it's indicative of the competitive culture this Grizzlies team has embraced. "Get better every single day," Jenkins says, when asked to summarize his system. "Simple as that. We know our goal is to just find our best version. I'm repetitive because I don't want them to be thinking anything other than, Hey, there's going to be this marker that people are going to talk about. We are really trying to find our best selves defensively, offensively, spirit-wise, all that just gets better every single day."
SLAM 238 featuring the Memphis Grizzlies is available now.
Even though the season isn't quite over yet, the Grizzlies indulging in some fun feels appropriate. One season ago, Memphis was fighting to finish anywhere above .500 and make the play-in game. This season, as the second-youngest team in the NBA, the Grizzlies finished 56-26, the second-best record in the League and tied for the most wins in franchise history. The Grizzlies are the first team in the history of the NBA to lead the League in rebounds, blocks and steals, and have contributors firmly in the conversations for MVP, Coach of the Year, Defensive Player of the Year and Most Improved Player.
A little over a year ago, Ja Morant was on the cover of SLAM fronting a story about how the Grizzlies seemed poised to go from rebuilding to contending. Well, that future is right now. These Grizzlies have proven that a youth movement in modern sports can be a good thing, maybe even a great thing. 
The crazy part is how it almost didn't even turn out this way. The Grizzlies began this season 9-10 and had the worst defense in the NBA. And then, just when you thought things looked dim, in the final game of that opening stretch, Morant went out with a non-contact knee injury. Things went from dim to dimmer.
While Morant avoided serious injury, he did miss a few weeks, and the Grizzlies promptly won 10 of their next 11. Ever since then, the Grizzlies have pulled off a dazzling transformation, morphing into a top-five team on both defense and offense. How did this happen? If it was easy to figure out, everyone would be able to do it. But a franchise that won only 22 games five seasons ago has turned into a victory machine. Winning time? Right now, that's in Memphis, mane.
A few minutes after Grizzlies forward Brandon Clarke is crowned the Simon Says champ, Jaren Jackson Jr sprawls on a couch near the locker room. Jackson, in his fourth NBA season, is still just 22 years old, a few weeks younger than Morant. Jackson Jr or "Trip" as he is known among his teammates, has embraced the nickname "Block Panther," emerging as the interior defensive stopper who allows his teammates on the perimeter to swipe at loose balls and overplay passing lanes. Besides leading the NBA in blocked shots, he's also second on the Grizz in three-point attempts, making him a prototypical modern big in today's NBA.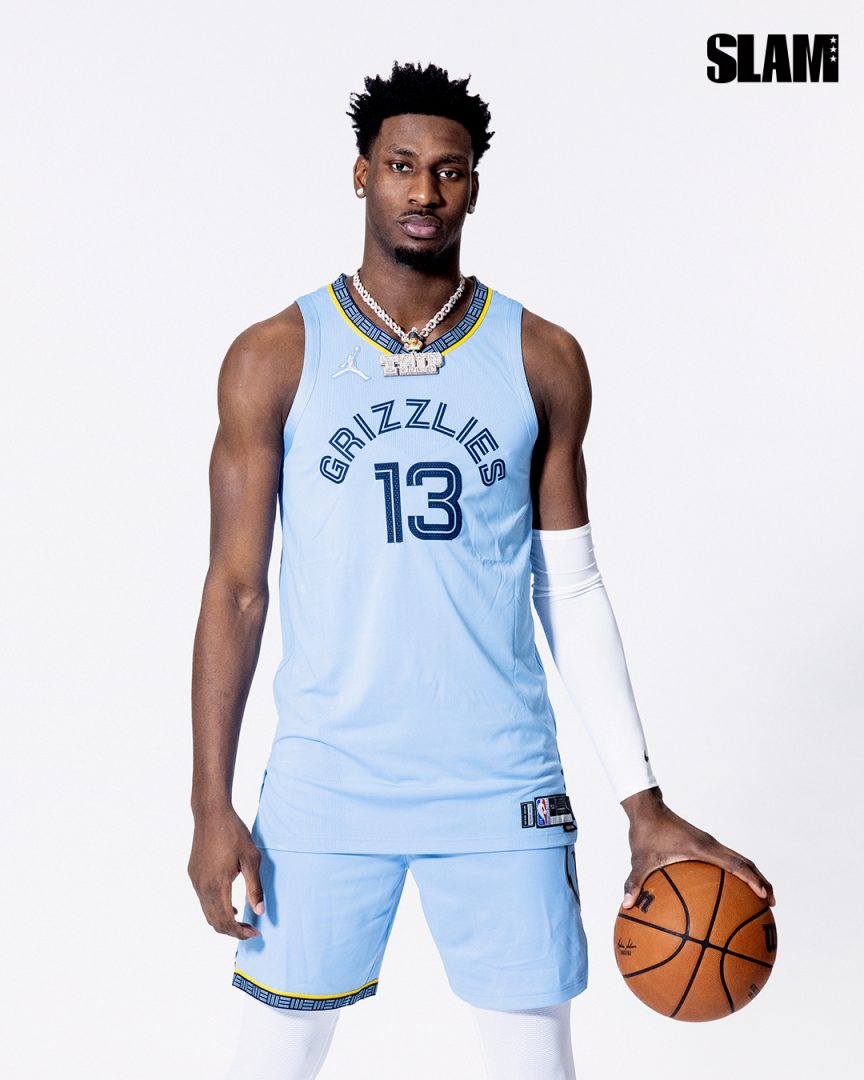 "The culture here is crazy," Trip says. "We don't know how important it is, because we just do it naturally. It's just ironic that we all kind of hang out and do the same stuff, enjoy the same stuff. We just ride with it. But it obviously helps—it helps us win, it helps us communicate, it helps us understand each other better off the court. It's just a big deal for us. We love it.
"We just kick it with each other. We go out to eat, we hang out, we go to each other's rooms on the road, we go play video games—we just chill."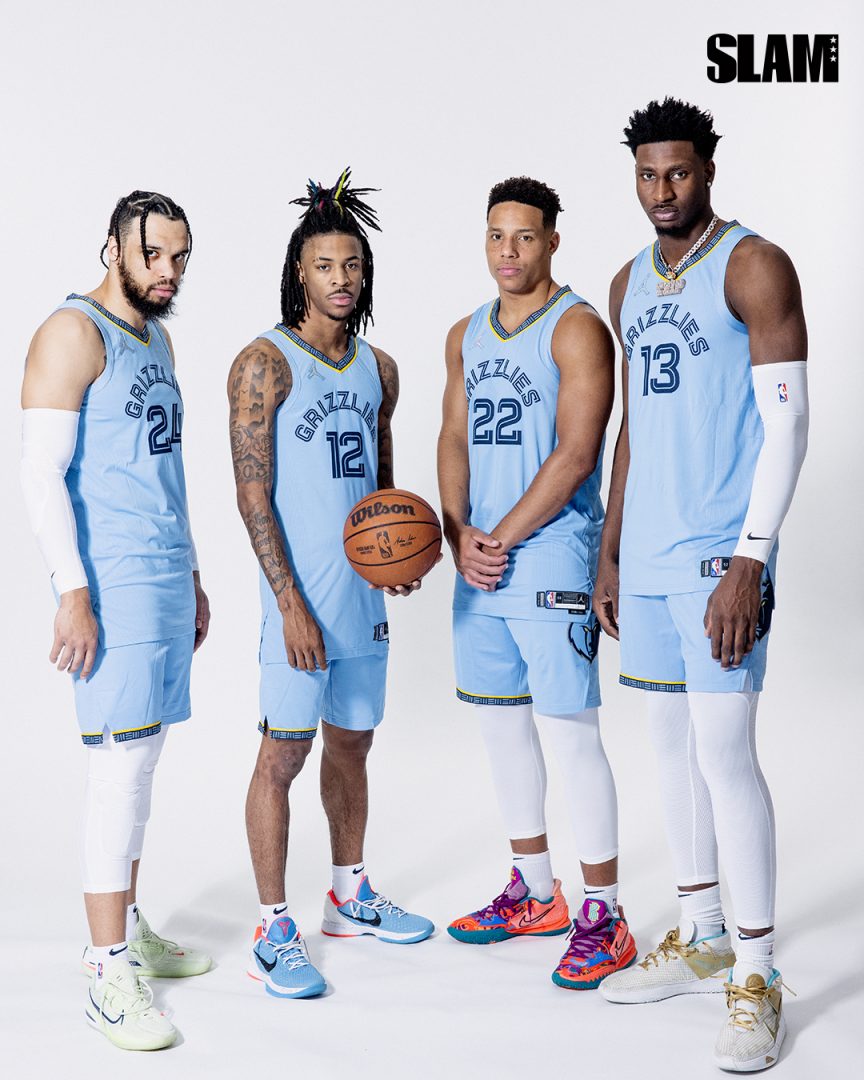 Perhaps no Grizzlies player is more chill than Dillon Brooks, who always arrives for press conferences wearing sunglasses and speaks in a whisper. Yet on the floor, he plays with ferocity, particularly on the defensive end, a clear throwback to the Grizzlies' grit-and-grind heritage. ("I'm trying to smile more so I don't get too upset out there and they start teeing me up again," Brooks recently joked.) In his fifth season in Memphis, Brooks is the longest-tenured Grizzlies player, and also the their second leading scorer this season, at 18.4 ppg. Still, his relentless defense-first mindset seems to set the tone for much of what the Grizzlies do.
Brooks cites improved team defense as a reason for the Grizzlies' current success. "Play physical," he says. "Make the refs call every single foul and see if they can do it. Slide our feet from one to 12. We are contesting at the rim, and we are doing it as a team. Playing team defense, communicating, talking. It is really good to see us get out and run and do what we are good at. That is what we have to bring to the playoffs."
Morant sees a major difference between this year's team and last season's squad: "Attention to detail," he says. "I feel like we're way more locked in. No matter what goes on during the game, if we're missing some shots we move on. And I feel like last year we had times where we missed coverages, where we talked about it for two days, and teams made us pay for that. And I feel like now we're very locked in and feel like everybody is just locked down on the defensive end and knowing we can score the basketball."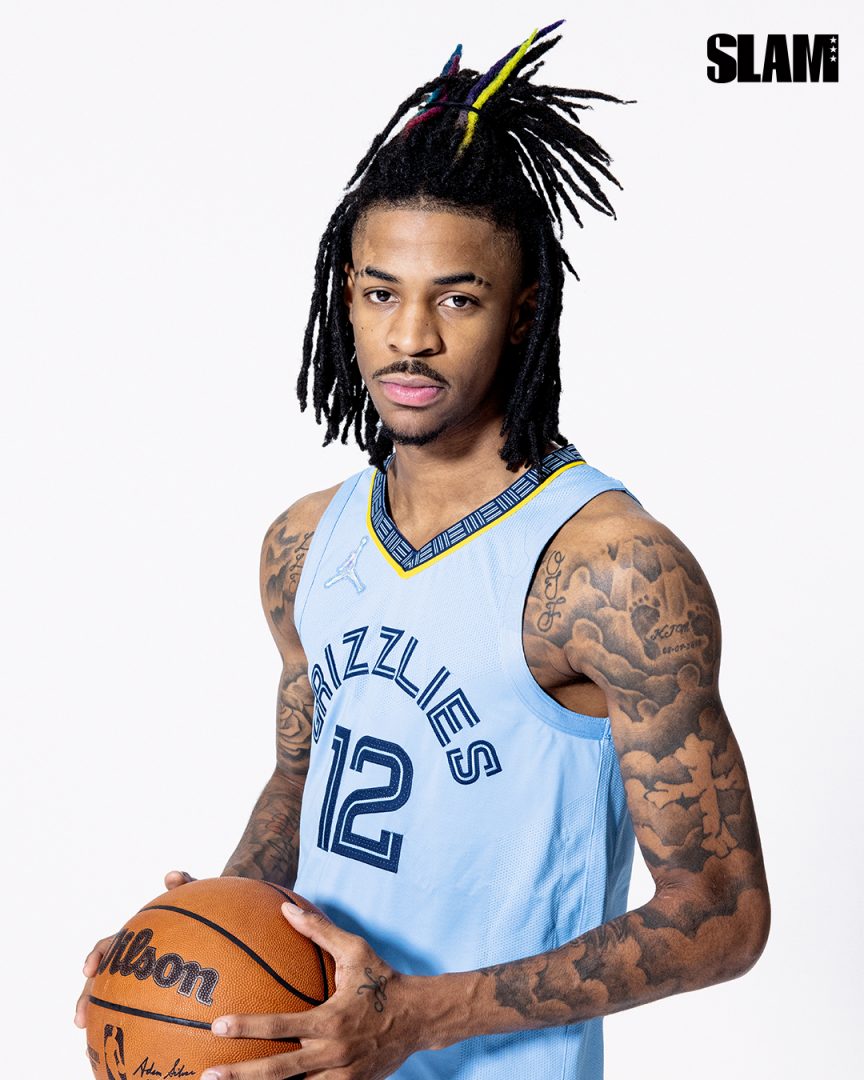 Morant began this season with a flurry of ninja emojis on everything he tweeted, using the phrase, "Welcome to the dark." Morant eventually provided some context, noting that the work done in the dark is eventually seen in the light. And then he welcomed the rest of the NBA into the darkness. 
Morant finished his third season averaging 27.4 points per game, and despite being listed at just 6-3, he led the NBA in points scored in the paint. There were literally dozens of highlights along the way, from Ja scoring 52 in a game (prompting an online MVP endorsement from Allen Iverson) to dunks over bigs and gravity-defying blocked shots to hitting the griddy on the way back to the locker room after every win.
Along the way, Ja turned his Twitter account into a personal bully pulpit, campaigning for Jackson Jr to win Defensive Player of the Year, for Desmond Bane to win Most Improved, for Jenkins to win Coach of the Year.
While the Grizzlies have had explosive performances from a variety of players this season—eight different players have been a game's leading scorer this season—perhaps nobody has been more consistent than Bane, the second-year guard.
Projected as a spot-up shooter when the Grizzlies drafted him out of TCU, Bane has developed into a dynamic all-around guard, able to score off the dribble, run the offense as a secondary ballhandler and still shoot the lights out—as Jackson Jr said after a recent game, "Des is, you know, all hail Des." Over the Grizzlies' last 17 games, Bane led the team in scoring eight times and along the way set a franchise record for made threes in a season. 
"Coach always talks about the energy and the ball," Bane says. "Guys tend to shoot it better as long as you just keep moving the ball. We stay consistent with our work habits and our approach. Shots are going to find a way."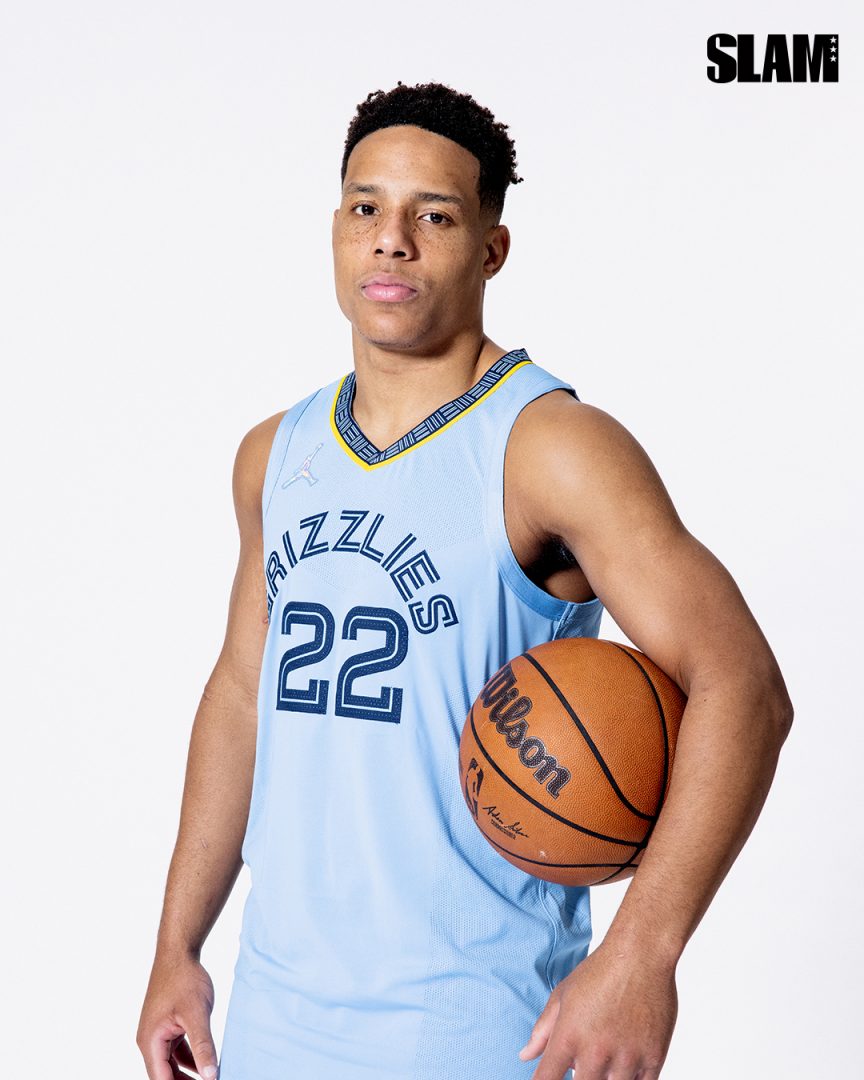 The roster that Grizzlies general manager Zach Kleiman and his basketball operations staff has assembled is filled with a"bunch of hoopers," as the players like to say. Memphis finishing with the second-best record in the NBA wasn't just because of the four guys you see on the cover of this magazine—it's taken major contributions from guys like Steven Adams, who set a franchise record for offensive rebounds in a season. It's been guys like Tyus Jones, who led the NBA in assist-to-turnover ratio. Some nights it's been rookie Ziaire Williams, who started 30 games this season and developed into a crucial rotation player. It's been Kyle Anderson, who gives Jenkins incredible versatility in the lineups. It's been Brandon Clarke, who is not only apparently great at Simon Says, but has been on the finishing end of many highlights this season. It's been DeAnthony Melton, known as "Mr. Do-Something" for his uncanny ability to make impact plays on both ends of the court. It's been John Konchar, Killian Tillie and Xavier Tillman Sr. Even two-way players like Santi Aldama have had memorable moments this season. 
"We have a squad," Brooks says, "so you may not get to see those guys play a lot, but they exceed. It is special to see, and we are going to need that all year. You never know what is going to happen with injuries or COVID. Teams know when they play us, no matter who is on the floor, guys are ready to play."
"The phrase we keep talking about," says Jenkins, "is Everybody Eats. When you're playing with that rhythm, that just inherently creates confidence amongst all five guys out there. It becomes infectious. It doesn't matter when we sub guys, they just kind of pick up where that first group left off."
For the Grizzlies, the strength of the wolf is the pack, and the strength of their pack is the wolf. Every player has embraced their role, and whenever their time comes, each player is ready to play. With so many young players destined to be in Memphis for a while, the future looks blindingly bright. But don't overlook the present, either.
"We expect to win every game we play," Jackson Jr says. "We don't go in thinking that we're down, even if we don't have players playing. Because the way we're taught to play, everybody knows how we're supposed to play—move the ball, make defenses work. We like to tire teams out, run them, make them work on defense. We work so hard on defense. Everybody can play defense. If you play defense, you're going to end up hooping."
And somewhere on the journey, the Grizzlies figured out that playing with a little attitude was a good thing. Against the Lakers in January, Desmond Bane brushed against LeBron James, who pushed back and caused a momentary pile-up in the paint. As Bane stepped to the charity stripe, LeBron could be overheard on the broadcast telling the Grizzlies to stop talking ish. The Grizzlies would go on to beat the Lake Show, 127-119, for their ninth straight win. 
A few weeks later, after the Grizz drubbed the Knicks at Madison Square Garden on national television, Jaren Jackson Jr and Morant faced the media together. 
"We play with energy, we play with intensity," Trip said. "We love that. That brings joy to us. That back and forth, that's just what we like, so, if you want to play that game, we can play that game. It's cool. It's all in between the lines. It's never personal. I don't care who I'm talking to, it's just a person, and I'm just going to say what I feel, and I'm going to do what I feel, too."
And then Morant sat up in his chair, and with a smile, summarized the Grizzlies way, for a team and a city that has been overlooked for far too long: "Ain't no runnin' in the M, man. We climb up the chimney."
"Yeah, for sure," agreed Trip.
"We gonna let everybody know that we're here," continued Morant. "We're gonna play hard, trying to get a win.
"And if you don't like it?" Morant asked rhetorically.
"Oh well."
---
SLAM 238 is available now in these Gold and Black Metal Editions, as well as a Cover Tee. Shop now.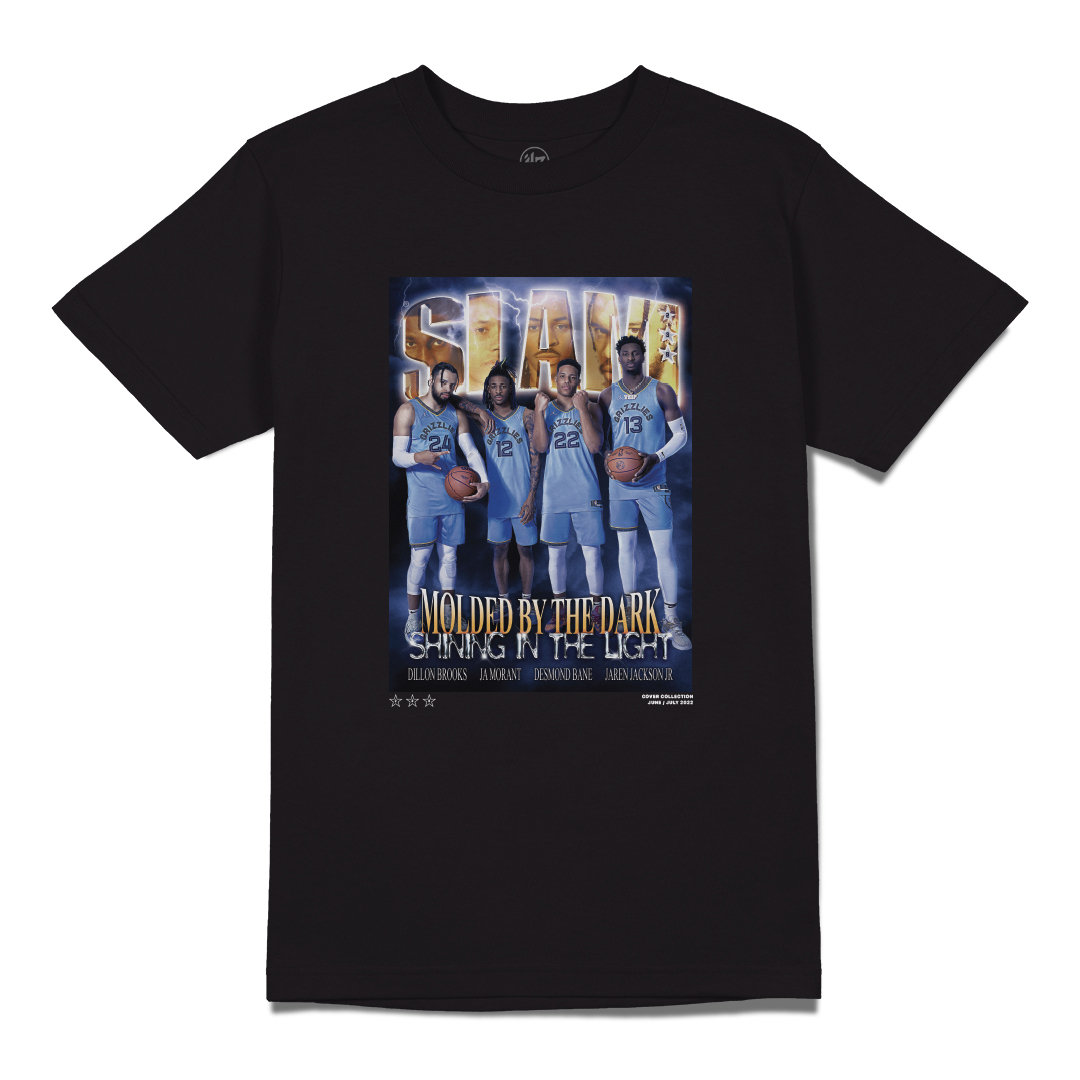 Portraits by Atiba Jefferson.


Check out our Latest News and Follow us at Facebook

Original Source