Former DIII Guard Eric Demers is Ready to Tap Into His Potential
Eric Demers, the NCAA's leading scorer for the 2019-2020 season, is dripping sweat after a grueling pregame workout of corner threes, elbow sprints, and dribble handoffs before the Maine Celtics take on the Westchester Knicks. 
One of just a couple dozen players in the G League and NBA to have played college basketball outside Division I, Demers' mere presence in the G League cuts against conventional knowledge that the best basketball players can all be found at the top of high school recruiting lists and draft boards. He averaged 8.1 points and 1.2 assists in his first season as a pro in the G League. 
For a professional athlete, Demers is surprisingly unassuming. A 6-1 shooting guard who likes to golf and hang with his family, Demers is easy to hang with. Michael Rejniak, Demer's coach with team We Are D3 in the TBT remembers when Demers first walked into the pre-tournament workouts. "Eric might be the last guy you pick, like, from a visual viewpoint to be the G Leaguer. But he is."
Looking out onto the court where players he used to watch on ESPN warm up, the Gordon College alum points out that he's "the one guy in the G League that has loans." Division III rules do not allow schools to offer athletic scholarships, and at nearly $40,000 a year, Gordon's tuition is nothing to scoff at. Ask him if he would change his path to the G-League, though, and Demers will tell you that he wouldn't change a thing.
During his senior year at Gordon College, Demers led the nation in scoring with 32.4 points per game, dropping 42 against Hartford in an exhibition game, his only Division I opponent that year. Last summer, he went off for 25 points in his TBT debut for team We Are D3, off the bench. 
Rejniak proudly calls Demers "one of the best shooters I've had the pleasure to coach," while Maine Celtics assistant coach Craig Luschenat, a fellow DIII alumnus, was "shocked by his quick release" when first watching Demers play. But for all the things he does well, Demers has some adjusting and learning to do since entering the G-League, and he has to overcome ageism too, all while playing against the best competition he's ever faced.
What's more, the G League is molded in the NBA's image, and as such, is dominated by the pick and roll, an offensive scheme which calls for defensive assignments that Demers has never played and for a brand new offensive approach for him, too. Where in college he had the green light like Damian Lillard, in the G League he's tasked with emulating Jae Crowder, a typical three-and-D wing.
"Coming from DIII, he's so used to being able to kind of do whatever he wants," Luschenat explains. At Gordon, Demers would set up shop above the break. He had the freedom to attack the rim off the dribble, shoot deep pull-up threes, and even post up on occasion, as he did in his 25-point TBT performance. But in the G League, Demers now lives in the corner, waiting for more higher-profile players to pass him the ball, rebuilding his game to fit the new level. 
"I didn't have any scholarships coming out of high school or anything like that. I just fell in love with the process of getting better," he explains. "I loved basketball so much, I wanted to become the best I can. And I still do. So I try not to put a ceiling on myself or a window of opportunity. I just truly want to find my potential."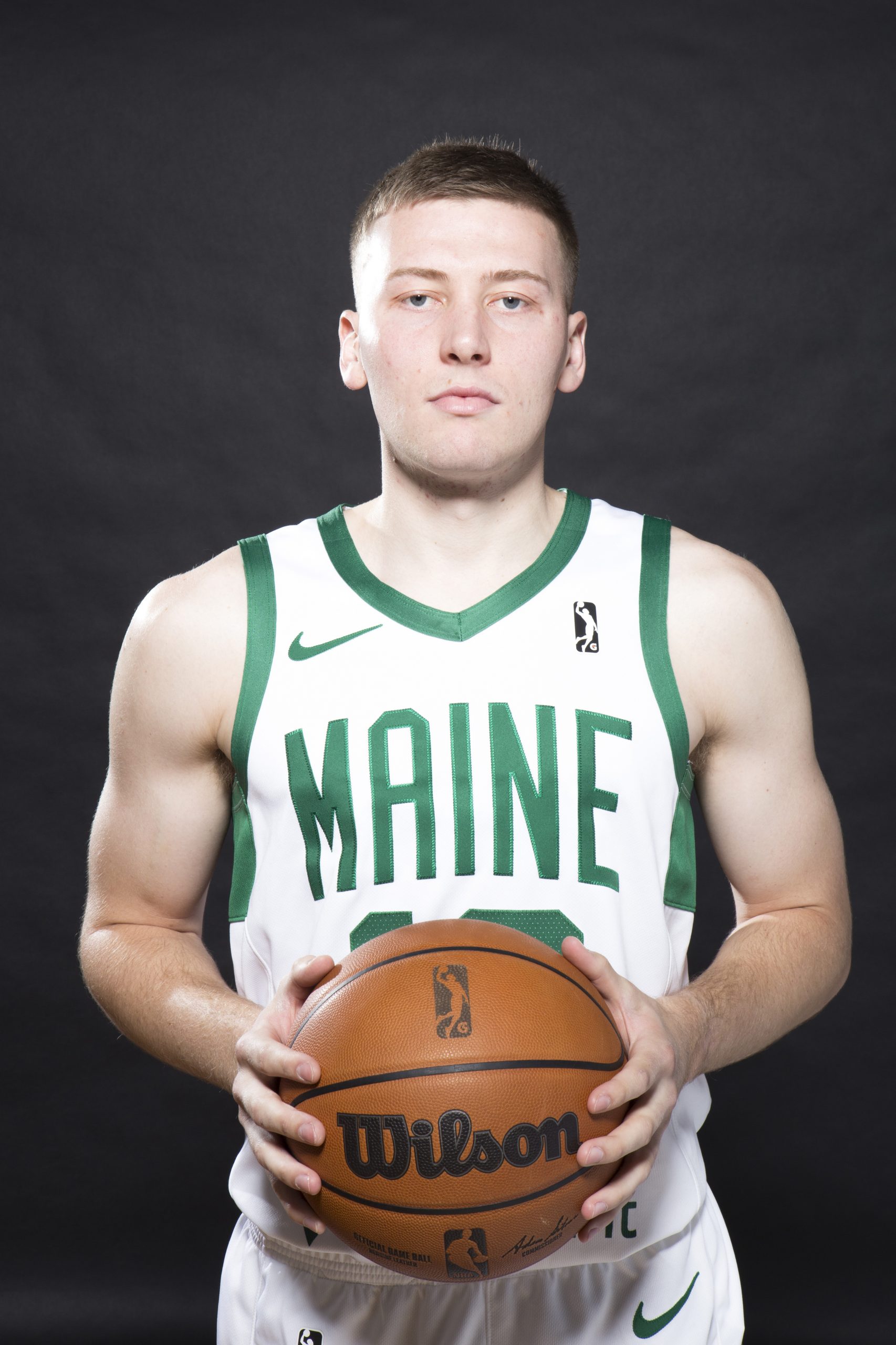 After solidifying himself as one of the top scorers in college basketball, Demers was in Los Angeles training with professional trainer Jordan Lawley—also known as JLaw, who counts Zach Lavine, Klay Thompson, and Alex Caruso among his many clients—when COVID-19 hit. An early Instagram post from 2020 shows Demers working out with a EuroLeauge ball, underlining his impression that his first gig was going to come overseas. Freshly married and coming off a successful senior season at Gordon, Demers looked to sign with an agent and begin his pro career, but he found that "meeting with agents is a lot different for Division III athletes rather than Division I athletes." 
Conversations over Whatsapp with agents speaking broken English trying to convince Demers to play in the country where they lived proved unfruitful, and a contract to play in New Zealand fell through because "they were kind of COVID-free at the time and didn't really want anyone coming into their country." With just half of G League teams going to the bubble, Demers didn't get an invite and found himself teamless for the first time in years. 
Though Demers and his wife Lauren were "100% locked in" on Demers playing professional basketball, the financial realities of starting a family set in, and Demers was forced to take a job at a mortgage company through a friend at church, working out every day in addition to his office and family duties. (Lauren and Eric welcomed their first child, Jordan, in August 2021.) Months in, Demers says there were "moments in time where I had some hard conversations with my wife, and it was like, is it time to just move on from basketball?"
Ultimately, the pair decided that they'd wait to see what professional opportunities would come his way. Six months later, Demers earned an invitation to NBA Summer League with the San Antonio Spurs. Having quit his day job and now beginning his professional journey, Demers arrived in Las Vegas, only to find more doubters.
Walking around the Summer League arenas, someone even asked him if he worked in the Spurs front office. Looking for a table at a restaurant with former teammates from Gordon College, Demers was about to be turned away from the restaurant until one of his buddies told the restaurant workers that Demers was a Summer League player. 
And yet, Demers isn't sweating any of it. He says the story about the restaurant is one of his favorite moments since becoming a professional basketball player. For JLaw, Demers' ability to be "able to turn off the basketball side" when he's not on the court is what sets him apart from other players.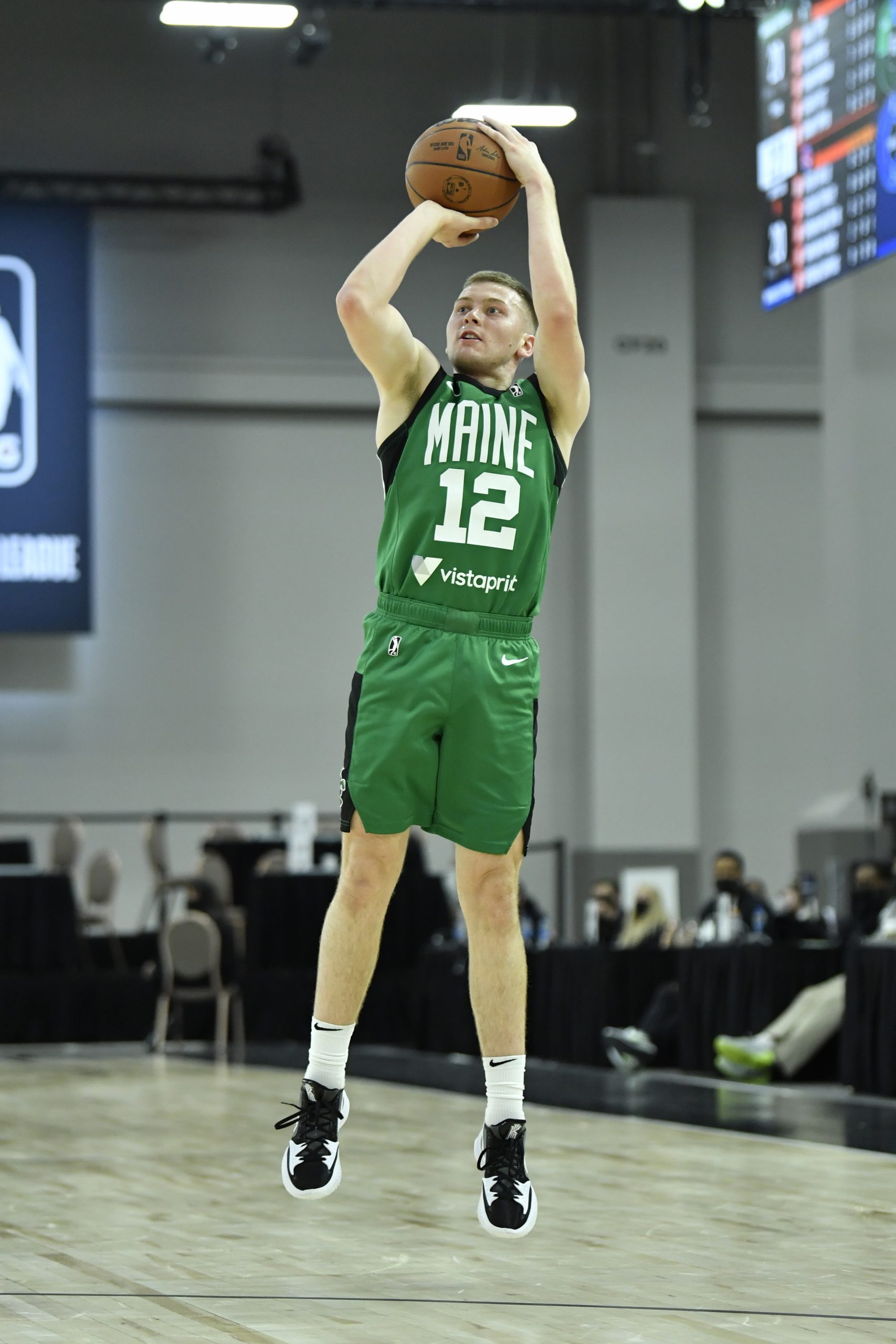 Luschenat and Rejniak echo JLaw's sentiment: "He doesn't care whether you're 6-8, 6-7," boasts Rejniak, "he'll cook you." It seems from the outside that Demers is the ever-elusive, even-keeled player, never too high and never too low. 
Demers' coachability is reflected in the ways he challenges his teammates. Sam Hauser, a two-way player for the Boston Celtics, is Demers' main matchup in practice, says Demers is "consistently moving and keeping the defense on edge," a skill that wasn't important for him in college, but is now a key facet of his game. 
In the words of  Luschenat, Demers is "always ready." After the game against the Knicks, the pro reflects on his rookie season thus far, and how unlikely it's all been. This is just the beginning for him; he says that he can see himself playing in the G League for "two to three years," and then potentially taking his talents overseas. 
 "Not many rookies especially come from where I've come from [and] get the opportunity to impact the team the way I have."
---
Photos via Getty Images.


Check out our Latest News and Follow us at Facebook

Original Source